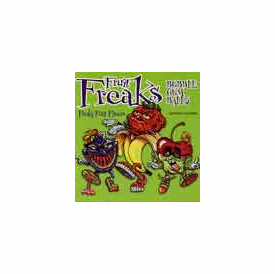 Fruit Freaks Gumballs 850 count
Ford Gum Carousel Fruit Freaks 1" / 25mm Gumballs

Today, Ford Gum is a leader in the manufacture and distribution of gum balls and gum ball machine banks as well as a private label manufacturer of assorted confections and health-related products for leading American brands. We have offices in Lincolnshire, Illinois and a manufacturing facility in ( ) New York that serve distributors, retailers and their discriminating customers around the world. We also offer bulk products and machines for the bulk vending industry.

The story of Ford Gum began in 1913.

Back then, twenty-year old Ford Mason was a roofing salesman who spent spring, summer and early fall traveling by horse and buggy over the winding country roads of western New York State. He was idle during the winter because nobody repaired barn roofs in cold weather.

Looking for work that winter, Ford met a man engaged in the business of operating chewing gum vending machines. The first machine had been invented only a few years before, and just a handful of entrepreneurs had ventured into the business.

Ford was impressed. He borrowed the money to lease 102 machines and placed them in stores and shops of communities in western New York State. He spent the winter collecting pennies and restocking machines.

"It was fun", Ford recalls, "to try to figure out which locations would be the most productive".

Ford went back to the roofing business each April, but every winter he resurrected his gum business. As Ford gained more experience, he was convinced that the penny gum ball could support him. .

Unfortunately, the new industry was disreputable. Most gum machine operators were more interested in making money than satisfying customers. Vending machine gum was of such poor quality that most people would buy once and never again. Machines often took coins without dispensing merchandise.

Ford realized that success meant giving customers their money's worth. Here was a challenge that intrigued the young man and roused his sense of decency. Ford quit the roofing business and devoted all his energy to selling gum. Ford's father, a Baptist minister, was pleased with his son's decision. And soon after Ford began his crusade for better business ethics, Reverend Mason said: "Make your own machines, my boy, and share your profits with God."

That Ford Mason took his father's advice is now a matter of history. He began with limited resources, but with unlimited enthusiasm. He created a business empire stretching from coast to coast. Over 500,000 vending machines perched on store counters and pipe pedestals in countless North American communities testify to the magnitude of his operations. To service this army of machines, Ford set up a nationwide system of operators.

From a network of distributors to a broad range of new popular products and state of the art equipment, the Ford Gum & Machine Company continues to deliver high-quality, innovative candy, gum and novelty products.